This great feature of Rocket WIFI enables you to use up to 5 to 10 devices to your account at once that don't normally work with captive portal login methods.
Captive portal means the pop up or web page redirect that provides you with a sign in page when trying to go on the internet. Some devices are not compatible with this logon method of Wireless networks. AppleTV is one such common device but there are many others.
If you are having trouble signing in on your wireless capable device then most likely you can solve the problem by adding the device to your account as an Automatic logon device. You will need to know the MAC address of the device to enable automatic logon.
Before you start find out about MAC Address here.
1: Once you have your MAC Address log into your user portal at https://account.rocketnet.com.au
2: Click on the devices tab inside your account portal
3: Click Add Device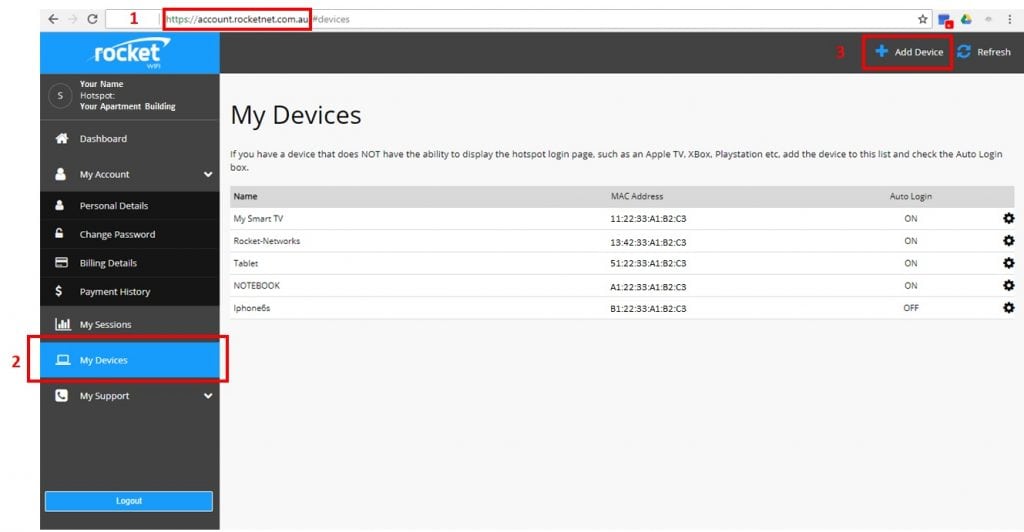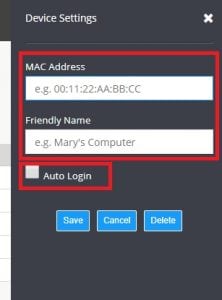 TIP: If you have logged on with your username/password on a device before you should see it in the list. You can change to automatic logon at any time by simply mousing over the device and clicking, then TICK, the auto login option.
In the pop up window enter the exact MAC Address of the device you wish to add to automatic logon. (NOTE:do not enter dashes but instead change dashes to colons)
Enter a friendly name such as "My Samsung TV" so you can remember what device it is. Click on save.
That's it!
Within 5 minutes your device will no longer ask for a username/password and should be able to access the internet.
If after waiting more than at least 5 minutes you are still getting prompted with the logon portal on your device OR have no internet please double check you entered the MAC Address correctly. Also power off and on your device to re-connect to the Rocket WIFI. Some devices require a HARD power shutdown and startup.